1-DAY ACUVUE® MOIST®
Multifocal 30pk
$43.99
per box
after discount
(30 lenses)
Get 20% off your first order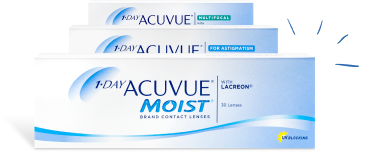 Same comfort. Same convenience. Any prescription type.
Have an astigmatism or prescription for multifocal contacts? Good news! Now you can enjoy all the benefits of daily contacts with the #1-selling daily contact lens, 1-Day Acuvue Moist.
Check out the option that works for your prescription type:
Description
New 1-DAY ACUVUE® MOIST® Brand MULTIFOCAL contact lenses offer the same comfortable wear as the standard MOIST lens with the added bonus of helping presbyopia sufferers see clearly in dim and bright light at all distances.
Details
Daily disposable multifocal soft contact lenses
30 contact lenses in buffered saline with povidone
Material and % of content
Etafilcon A