HOW OUR

A GAJILLION PERCENT PROMISE™

IS BETTER THAN YOUR RUN-OF-THE-MILL 100% PROMISE: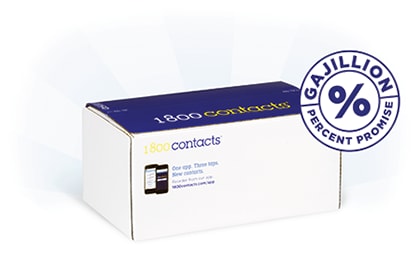 100% is open 9-5, Monday through Friday.
A Gajillion Percent is 24/7 customer service Monday through Monday via chat, phone, email, or even fax, if you're into that kind of thing.
100% puts you on the phone with robots.
A Gajillion Percent means you never have to "press 1." You'll always talk to real nice folks who care deeply about your eyes.
100% pats you on the head when you tear a lens.
A Gajillion Percent replaces that torn lens for free—including shipping.
100% lets you make returns within 30 days.
A Gajillion Percent lets you return unused lenses anytime, for any reason, and will pay return shipping because we like you so much.
100% wonders why you called them about your lost puppy.
A Gajillion Percent helps you design lost puppy posters to hang around your neighborhood.
100% tells the waitress it's your birthday.
A Gajillion Percent would never do that to anyone.
You get the point. It's our A Gajillion Percent Promise™
No less. Only more. And better.