Gajillion Percent Promise.
So much better than your pedestrian 100% satisfaction guarantee.
Lots of businesses promise "100% satisfaction guaranteed" but our Gajillion Percent Promise offers our customers so much more.
---
Millions of contacts in stock.
We have a couple of giant warehouses so we can 1. keep your brand in stock and 2. ship it to you really fast (probably this afternoon).
No hidden fees.
Hidden fees have no place at 1-800 Contacts. Same goes for bad attitudes, spiders, and leprechauns (the mean kind).
Best-price guarantee.
We won't say you can get contacts here on the cheap because that makes things sound sketchy. What we will say is that we'll beat any competitor's price.
Free returns and exchanges.
We'll exchange any unopened contacts for free (including shipping) should your prescription change. Actually, we'll exchange unopened contacts for any reason.
Online prescription renewal.
Prescriptions always seem to expire at the most inconvenient time, amirite? It's why we created our online vision exam, ExpressExam. It only takes 10 minutes and then you'll have a doctor-issued prescription within 24 hours.
Tear a lens? We've been there.
These things happen. Just give us a call and we'll send out a replacement contact lens for free.
Questions?
We're happy to help, 24/7.
Real, nice people are ready to help whenever you need it. Call us at 1-800-266-8228 or chat with us now.
Frequently asked
questions.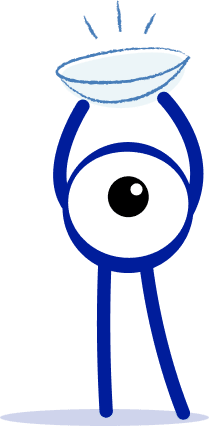 How do I use the Gajillion Percent Promise?
What if I'm outside the U.S.?
In a momentary lapse of judgment, I bought contacts somewhere else...can I exchange them with you?
I found my contacts cheaper somewhere else. How does your Best Price Guarantee work?