Air Optix Aqua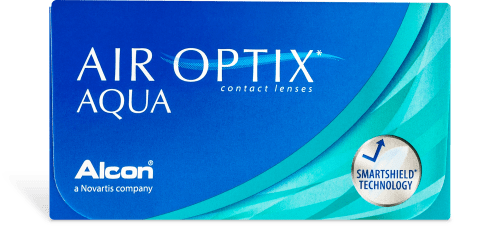 Upgrade to a newer, better, (and less expensive) lens.
Save money when you upgrade to Air Optix HydraGlyde. Get improved moisture retention and more comfort for less money.
Description
Air Optix Aqua contact lenses are made to keep your eyes comfortable and moisture rich. This lens is incredibly breathable, allowing five times more oxygen through than other lenses. Air Optix uses TriComfort Technology not only to let the contact lens breathe and retain moisture, but also to resist deposits and keep the lenses comfortable and wearable for up to one month.
Air Optix Aqua contacts are ideal for people who've had trouble with other lenses, have sensitive eyes, or just need more comfort from their lenses.
MANUFACTURER DISCLAIMER: AIR OPTIX® AQUA (lotrafilcon B) contact lenses: High oxygen transmissible lenses. Dk/t = 138 @ -3.00D. Other factors may impact eye health.
IMPORTANT INFORMATION FOR AIR OPTIX® AQUA (LOTRAFILCON B) CONTACT LENSES: For daily wear or extended wear up to 6 nights for near / far-sightedness. Risk of serious eye problems (i.e., corneal ulcer) is greater for extended wear. In rare cases, loss of vision may result. Side effects like discomfort, mild burning or stinging may occur.
Details
Monthly replacement silicone hydrogel lenses.
6 lenses in buffered saline.
Material and % of content
67% lotrafilcon B.
Why 1-800 Contacts?
24/7 customer support
Best price guarantee
Free torn lens replacement
Exchange unused lenses
See all the reasons