DAILIES AquaComfort Plus
Multifocal 90pk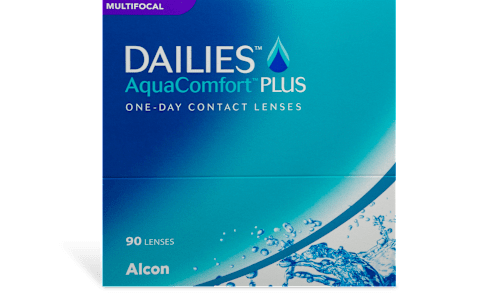 Description
DAILIES® AquaComfort Plus® Multifocal daily disposable contact lenses feature Precision Profile®. This industry-leading design seamlessly blends prescription strengths for clear vision at any distance. These multifocal contacts also feature blink-activated moisture technology for all-day comfort.
Important product information about DAILIES® Family contact lenses: Ask your eye care professional for complete wear, care and safety information. Rx only.
Details
Daily disposable multifocal soft contact lenses
90 sterile, daily wear soft contact lenses, 31% nelfilcon A, 69% water, in buffered saline containing PEG and HPMC. The saline may contain up to 0.05% Poloxamer.
Material and % of content
31% nelfilcon A
Why 1-800 Contacts?
24/7 customer support
Best price guarantee
Free torn lens replacement
Exchange unused lenses
See all the reasons