Proclear Toric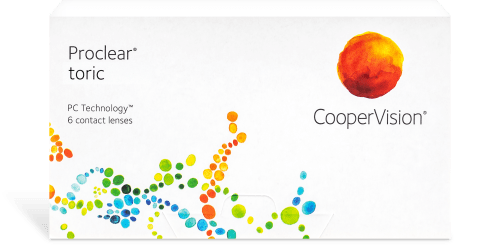 Description
If you have astigmatism, Proclear Toric soft contact lenses let you enjoy a level of comfort unrivaled by any other soft toric lens—a difference you'll especially notice the longer you wear your lenses throughout the day. This exceptional level of comfort is made possible by PC Technology™, which creates a unique material containing molecules of phosphorylcholine (PC), a substance found naturally in human cell membranes. These molecules attract and surround themselves with water, keeping Proclear Toric lenses moist and comfortable, even after 12 hours of wear.
Details
Monthly replacement disposable soft contact lenses
6 daily wear tinted soft contact lenses in buffered 0.9% saline
Material and % of content
38% omafilcon B
Why 1-800 Contacts?
24/7 customer support
Best price guarantee
Free torn lens replacement
Exchange unused lenses
See all the reasons