Common Questions (FAQ)
Account Questions
How do I sign in if I can't remember my password?
If you've forgotten your email or password, head to the Sign In page. Several options are available to retrieve your information.
If you've forgotten your password, simply click the Forgot Password link and we'll email you a link to change your password.
How do I sign in if I can't remember my email?
How do I change the email or password on my account?
After you sign in, head to the My Account page by clicking on the link in the top right-hand corner of the page. Click on the "Account Settings" tab, and you will be given the option to change both your email and password.
Can I still sign in to my account if I've forgotten my password and no longer have access to my old email address?
If you've forgotten your password and you no longer have access to the email associated with your account, give us a call at 1-800-266-8228 or use the live chat option and one of our lovely contact lens experts will help you get access to your account and update the email and password associated with it.
For your security, we'll remove the credit card information from your account if you change your email address. We'll also send you an email confirming your change.
Why didn't I get a forgot password email?
If you can't find the email we sent, check to see if it's in your junk, spam, or bulk mail folder. To ensure future emails will always make it to your inbox, please add 1800Contacts.com to your "Safe Senders" or "Trusted Sites" list.
Placing Orders
Ordering with 1-800 CONTACTS is simple! Our How to Order page will quickly teach you how to order a product. If you're still having trouble, you can call us at 1-800-266-8228 to help you through the process.
How do I order if I wear a different brand in each eye?
If you wear different brands in each eye, start by entering the prescription for your right eye. On the product page for your brand, uncheck the box next to "Left Eye". The page will refresh with the parameters for the left eye grayed out. Enter the parameters for your right eye according to your prescription or contact lens box and enter your name below the prescription. When you are done with the right eye, continue by clicking the "Add to Cart" button. You will be taken to the shopping cart and see the prescription you entered for your right eye.
To enter the prescription for your left eye, navigate to your brand using the search box or one of the product lists on the left side of the page. When you've found your brand and arrived on its product page, uncheck the box next to "Right Eye." The page will refresh with the right eye grayed out this time. Next, enter the parameters for your left eye according to your prescription or contact lens box and enter your name below the prescription. When you are finished, click Add to Cart. You will arrive on the shopping cart page again, this time with the separate prescriptions for each eye listed. Review the prescriptions to make sure they are correct and then hit "Continue Order" to proceed.
How do I use an order code?
In your cart, there is an order code link located above the total price of your order. Click on the link, enter your code, and hit apply to see valid codes applied to your total.
Prescription Questions
Can I still order contacts if my doctor's office is closed for COVID-19?
Absolutely. The fastest way is to send us a copy of the paper prescription your eye care provider gave you. Snap a clear picture of your prescription and upload it here or text it to 41800.
If you don't have a copy of your prescription, go ahead and complete your order as you normally would. We'll try to verify your prescription by reaching out to your doctor who may be responding normally, even though they aren't seeing patients.
You can also take our 10-minute online vision exam, ExpressExam. Your order will ship when we receive your renewed prescription from the eye doctor (this usually only takes a few hours).
Do I need a prescription to place an order?
Yes. We require a valid prescription for every order. If you don't have a copy of your prescription, you can still order contact lenses from us. You'll be able to select your eye doctor from our expansive database. All you will need is your eye doctor's name (or clinic name), city, and state.
After you submit your order we will act on your behalf to quickly verify or obtain your prescription information. We are required by law to verify your prescription with your doctor. This helps to ensure that we provide you with the correct contact lenses in your order.
How do I order if I don't have a copy of my prescription?
To find the correct information for your contact lens order, just look on one of your contact lens boxes. Your contact lens box will have a brand name and your prescription information. Please see the example below to find your prescription on your contact lens box:
Where is my prescription? ... it's on the box!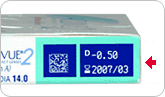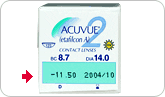 Contact lens prescriptions vary based on the type of lens you wear (bifocal, toric, disposable contacts, etc.).
If you don't have a box, call us at 1-800-266-8228 and we can complete your order process over the phone. One of our agents will be happy to contact your eye doctor and find your prescription for you.
How do I know if my prescription is still valid?
Under a new federal law your prescription is good for a minimum of one year and, depending on the state in which your eye care provider is located, some prescriptions are good for two years. Most importantly, this one year time period is from the date your eye doctor issues your prescription—not from the date of your eye exam.
We are advocates of proper eye health and encourage our customers to receive regular eye care. If you have provided us a copy of your prescription, we will notify you when it is expiring. If it has already expired, we'll call to remind you to visit your eye doctor for an eye exam and to receive an updated or new contact lens prescription.
Want to send us a copy of your prescription and get your order faster?
We want to get your order to you as fast as possible. Here's how to make that happen:
Snap a picture of your written prescription with your phone. Text it to 41800, email it to rx@1800contacts.com, or upload it here: Upload Rx.
Yep. That's all there is to it. You'll also get Rx expiration and reorder reminders.
Order Status and Shipping Questions
How do I check the status of my order?
First, be sure to sign in! You can easily check the status of your current and past orders by clicking on the "Order Status & History" tab on the My Account page. Your most recent order will be displayed, and you can print or email your receipt. If you want to see past orders, scroll to the bottom of the order details and click "See more orders."
How do I print an invoice?
You can print a copy of your invoice from your order history or have one of our awesome associates email you a copy. Chat now or call us at 1-800-266-8228.
How long does it take for my order to ship?
It may take up to 48 hours to process your order. We'll verify your contact lens prescription with your eye doctor as soon as possible. If you would like your order to ship immediately, you can fax your prescription to 1-800-875-9851 or email it to rx@1800Contacts.com. Please put your customer number on the contact lens prescription before faxing or emailing it.
What shipping options do you offer?
All of them:
Standard (5-7 business day)
Ridiculously Fast (2-3 business day)
Teleported (Basically) (1 business day)
Importantly, these shipping times are how long it takes to ship after we verify your prescription, which can take up to one full business day. To have your order ship right away, text a picture of it to 41800 and your order will typically ship the same day.
What is 1-800 CONTACTS' return policy?
We offer a 100% satisfaction guarantee on all orders. If your prescription changes, we'll even let you return the unused lenses, as long as they are sealed in their original packaging. Once we verify your new prescription, your lenses will be replaced and sent to you. We are also happy to replace torn lenses.
International Orders
What if my eye doctor is outside the United States?
These orders can't be filled on the website since orders shipped within the 50 United States require your current eye doctor's contact information and a copy of your contact lens prescription. First, call 1-800 CONTACTS (1-800-266-8228) to set up an account and place your order, then fax a copy of your prescription including your customer number to 1-800-875-9851.
We will honor international prescriptions for two years from the exam or issue date regardless of state rules regarding the shipping destination. If there is no date on a prescription, we'll honor that prescription for two years after the date we received it regardless of the state rules related to shipping destination. Prescriptions are written differently in every country. In order for us to be able to use your international prescription, there is some information that the doctor needs to specify:
Patient Name
Brand of contact lens
Power
Base Curve (this measurement tells us the size of your eye, generally an 8.x Or 9.x Number)
If you have any questions, please call 1-800 CONTACTS (1-800-266-8228) for assistance.
What do I need to know if I am shipping to an international address?
International orders may experience additional shipping delays. You may be subject to import duties and taxes, which are charged once a shipment reaches your country. Additional charges for customs clearance must be paid by you; we have no control over these charges and can't predict the amount. Customs policies vary widely from country to country, so you should contact your local customs office for further information. Additionally, you must comply with all laws and regulations of the country in which you're receiving the goods. Manufacturer restrictions prevent us from shipping certain products to some geographic locations.
Orders shipping to Japan will only be allowed a two-box quantity or a two month supply. O2 Optix orders will not be shipped outside North America (with the exception of APO/FPO shipping addresses). Additionally, we can't ship to Mexico or Spain.
Payment Questions
Can I use my FSA (flexible spending account) to pay for my order?
Absolutely. When you reach the "Review & Submit" page, just use your FSA card as you would any other credit card. If you don't have an FSA card, you can purchase products using a regular credit card and submit the invoice for reimbursement.
For more information about using your FSA to pay for contacts, click here. If you need help, call us at 1-800-266-8228.
Does 1-800 CONTACTS accept vision insurance?
Yes. 1-800 CONTACTS is an in-network provider for Davis Vision, Superior Vision (Versant Health), Spectera (United Healthcare), Blue View Vision, and Anthem BCBS (administered by EyeMed). You can use your insurance benefits online, or simply chat, or give us a call (1-800-266-8228) and a real-live friendly person will help you place your order.
We are also accepted as an out-of-network provider by most major insurance companies, such as VSP, EyeMed and more. Using your benefits out-of-network is super simple. Just place your order (online or by phone) and complete the out of network form (click here to download), then submit both the invoice from your order and the completed form to your insurance company for reimbursement. It\'s that easy.
Product Questions
Does 1-800 CONTACTS sell name brand contact lenses?
Yes, you receive the exact same contact lenses as you would from your eye doctor, including all of the major brands like Acuvue®, Soflens®, Air Optix Aqua®, Optima®, PureVision®, Focus® and Biomedics® as well as hard-to-find specialty lenses such as toric, colored, bifocal, multifocal and disposable contact lenses.
How do I order gas permeable contacts on the website?
Gas permeable lenses are available through our call center only. Please call 1-800 CONTACTS (1-800-266-8228) to order this lens.
What if I can't find my contact lenses on the website?
If you can't find your contacts on our website, it may mean that we only sell them in our call center. Please call 1-800 CONTACTS (1-800-266-8228) for help from one of our contact lens experts.
Good news! We've partnered with Liingo Eyewear to help you get stylish frames with free prescription lenses. Already have frames you love? Replace the lenses quickly and easily with Boomerang.
Company Information