Same as MEDIFLEX SUPREME 1 DAY TORIC
90 pk
Save 25% on your first order.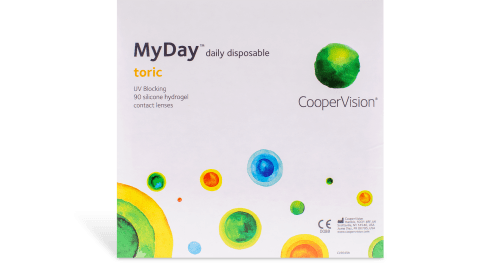 Description
Correct your astigmatism with MyDay toric contact lenses. These daily contacts are made with Smart Silicone™ which means less silicone is used per lens so more moisture is able to keep your eyes hydrated. Also, they're really, really soft. And since they're a daily lens, you don't have to worry about washing, disinfecting, and storing – and you'll have a fresh, clean pair every morning. Now available online in a 90 pack.
Same contacts. Same manufacturer. Different box.
MyDay Toric contacts are sold under multiple names in a variety of stores, including as MEDIFLEX SUPREME 1 DAY TORIC. Your order will be fulfilled with MyDay Toric.
Details
Daily disposable soft contact lenses for astigmatism
90 lenses immersed in buffered saline solution
Material and % of content
54% stenfilcon A