Miru 1 Day 90pk
(Same as SCOUT by Warby Parker)
$44.00
per box
after discount
( lenses)
Get 20% off your first order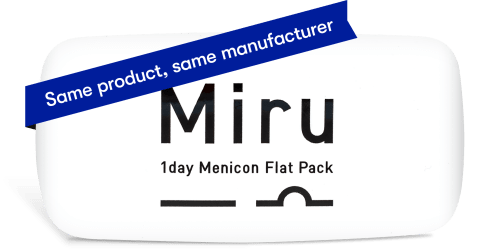 Description
Miru 1 Day Flat Pack contact lenses are designed to stay comfortable all day thanks to Centraform edges which reduce friction between your eyelid and the edge of the contact lens. The innovative packaging always presents your contact with the outer surface facing up, reducing the chances of transferring contaminants from your fingers. Each pack is just 1mm thick, reducing packaging waste by 60%.
Same contacts. Same manufacturer. Different box. Always awesome 1-800 Contacts customer service.
Miru 1-Day contacts are sold under multiple names in a variety of stores, including as SCOUT by Warby Parker. Your order will be fulfilled with Miru 1-Day.
Details
Daily disposable soft contact lenses
90 sterile soft contact lenses
Material and % of content
Hioxifilcon A