Same as ULTRA ONE DAY
90pk
Save 25% on your first order.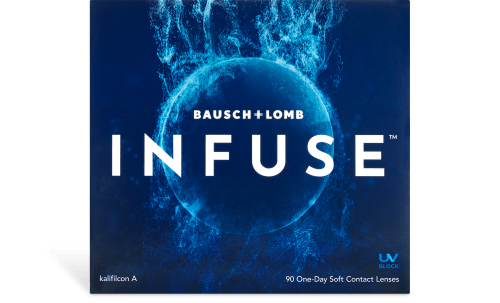 Description
Using advanced proprietary technologies, Bausch + Lomb Infuse Daily disposable contacts are a silicone hydrogel lens with a next-generation lens material called kalifilcon A. Infuse Daily provide extra breathability, excellent optics, and all-day comfort. Features Class 2 UV-blocking and more than 50% water content.
Same contacts. Same manufacturer. Different box.
Infuse One-Day contacts are sold under multiple names in a variety of stores, including as ULTRA ONE DAY. Your order will be fulfilled with Infuse One-day.
Details
Daily disposable soft contact lenses
90 contact lenses, each immersed in a sterile phosphate buffered saline solution
Material and % of content
45% kalifilcon A